Actually, it's not half bad. OK, so I killed my potatoes. But I planted new ones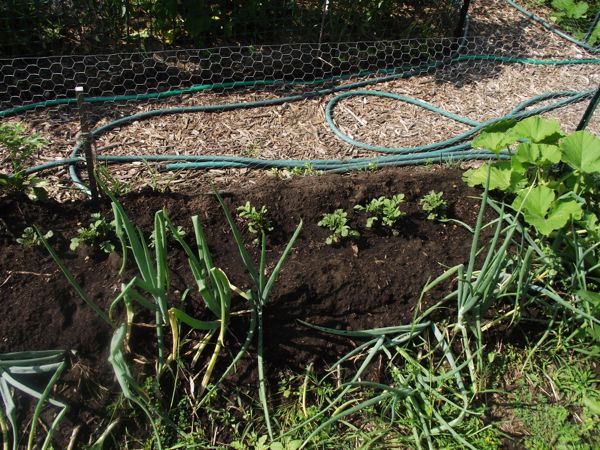 and bonus!: I might be able to avoid potato beetles because it'll be a late crop! The onions only look dead. Apparently, they droop over like that. As long as they're green, they're still growing. I pulled one that didn't look like it was doing well on top and the bulb was about 75% of the size of a tennis ball. So, nearly there with those. HOPEFULLY, I'll be able to harvest them before the pumpkins start taking over the world.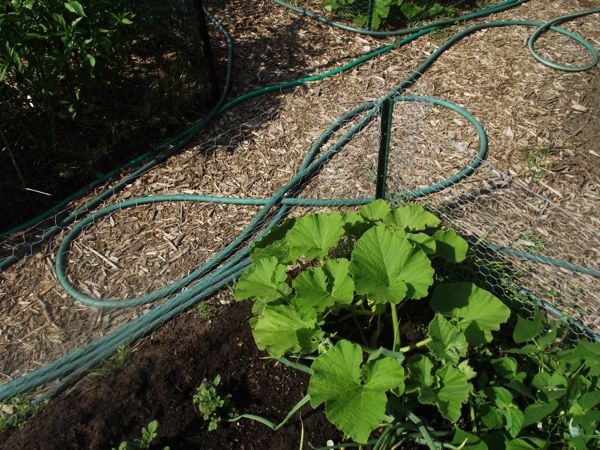 They certainly seem ready for it. Some of the smaller tomatoes are ripening.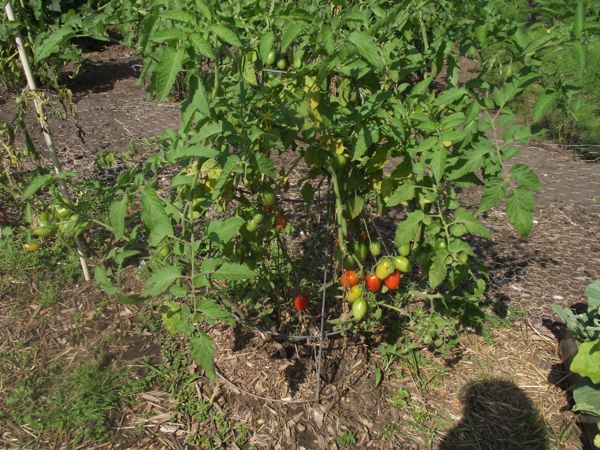 Poor tomato plants are so sick though.  A nasty spotted leaf thing that just keeps getting worse. LOTS of the plots have them. It's the same thing that's making most of my pepper plants lame.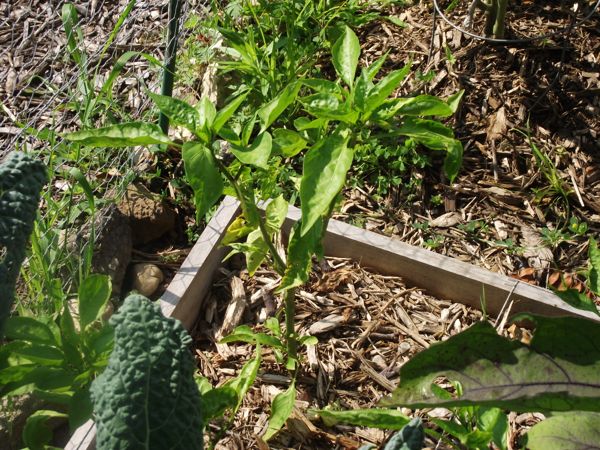 See? No fruit. I asked a girl who has a ton of tomatoes and peppers and she said they're not really bothered by it BUT they pretreated their soil with mycelium so her theory was maybe they had a competing fungus thing going on? I can just see it, down on the micro level, the Jets and the Sharks having little flamboyantly choreographed knife fights.
Anyway, the lettuce is almost done,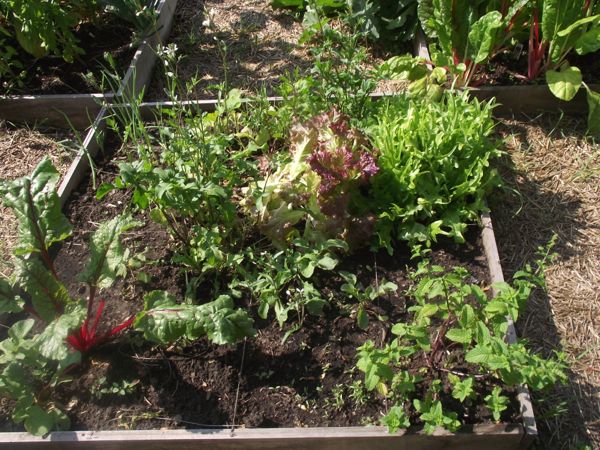 though, even I know I shouldn't be eating fresh lettuce in July.  I'll start planting my fall crop in a few weeks. The arugula has totally bolted and is even too bitter for me to eat. You see that little swiss chard plant? I have no idea how it got there. It was either in the soil already, or I dropped a seed. I have no idea.
I got a shit ton of green beans. Note to self: make sure to purchase the seeds for the stringless bush beans. The regular kind are sorta tough. Also, bush beans and squash should never be planted in a box with tiny delicate pepper plants. The poor things are so overwhelmed. I can't even get a decent picture of them. The Hmong's pepper plants are these adorable little bushes with tons of little purple and black peppers.  Mine are these tiny emaciated little things. And you know why, because the bully zucchini and the bully bush beans are hogging all the space and sunlight.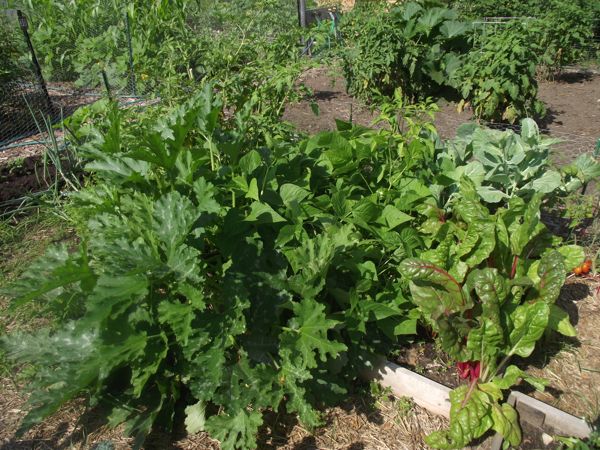 See that on the left? That's all one zucchini plant and behind it in the same box? Bush beans. And can you see the little pepper plants between the swiss chard and the zucchini? OF COURSE you can't…because the zucchini and bush beans are PIGS!
Grrr.
Anyway, I'll not be planting peas again.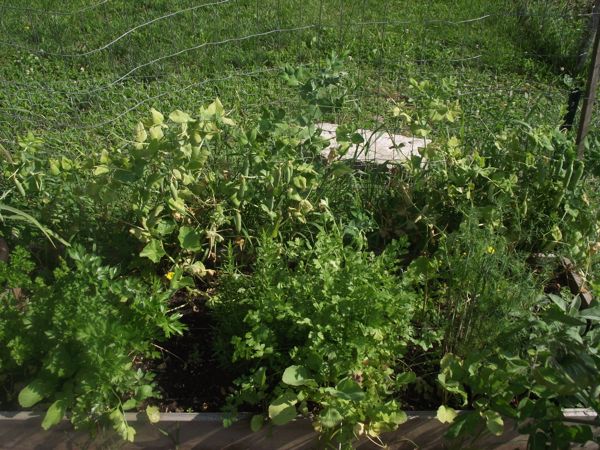 Well, I THOUGHT I had planted snap peas. Sadly, I discovered they were regular peas when I tried to eat a whole pod and ended up having to chew for a while. They're not all that productive and they take up space and then they look ugly when they're done. I did plant some melons right next to them hoping that by the time they started to produce, the peas would be done and they'd have some room to grow.
It's a constant battle to keep the spices from bolting. The cilantro is really trying, I've used enough of the parsley that it's kinda OK, and the sage is kind of nuts. Don't know what I'm going to do with so much sage. And the rosemary is just fine. I had to replant the oregano and the mint. They just were not thriving in the pots.
Finally, I got my first eggplants! I was jonesing for some Baingan Ka Bharta so I cooked them before I could take a picture of them. Though, the little white eggplant  thing finally flowered!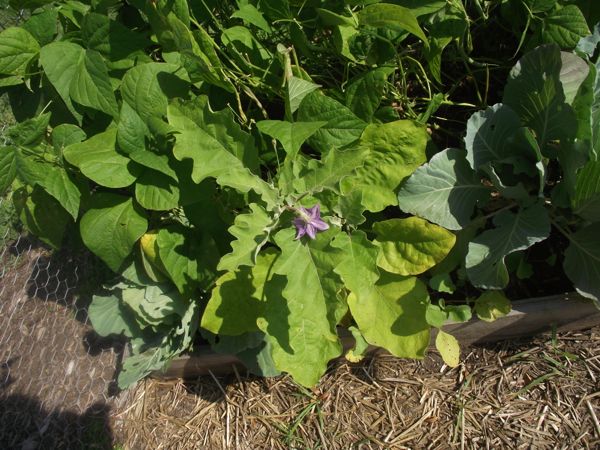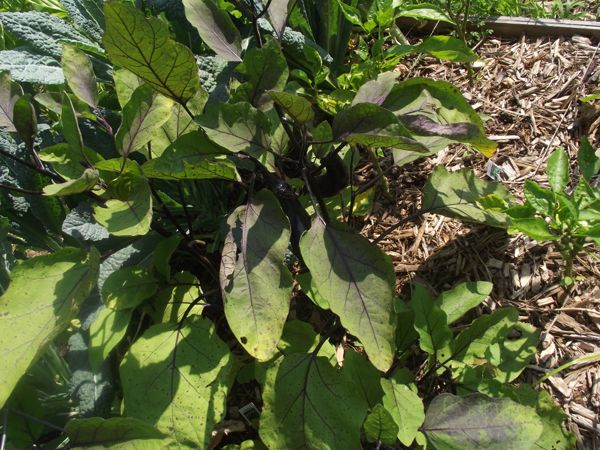 There are a couple of regular eggplants growing in there.
I got about four good sized cucumbers and I promptly made refrigerator pickles with them.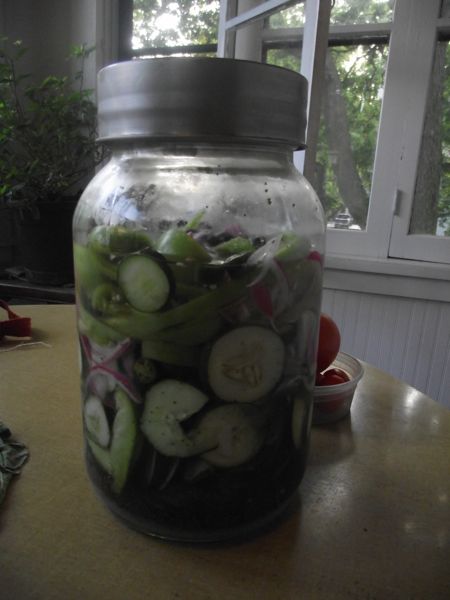 Mmmmmmm. I put some serranos in there too. Should be ready to eat in a few weeks. Well, they're ready now, but they'll be delicious in a few weeks.
The kale, swiss chard, cabbage and collards are gifts that keep on giving. You just snip off the outer leaves and more leaves grow…ALL SUMMER! And I never get tired of them. Well, it's only July. We'll see how I feel about them in August. So this is what I got today: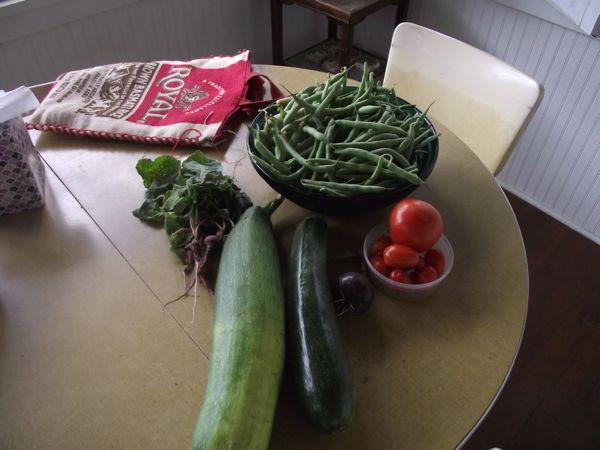 That ridiculously large zucchini was hiding. The leaves are really scratchy and I hadn't really pulled back the ones in the center. That big bugger was just sitting there, all stealthy. It's probably kinda tough so I think I'll grate it, steam it and freeze it for bread later on. The beans I parboiled and froze. And the tomatoes I'm eating like they're candy, 'cause they kinda' are that tasty. OK. That's it for now.
Oh, I almost forgot, I'm growing pinto beans.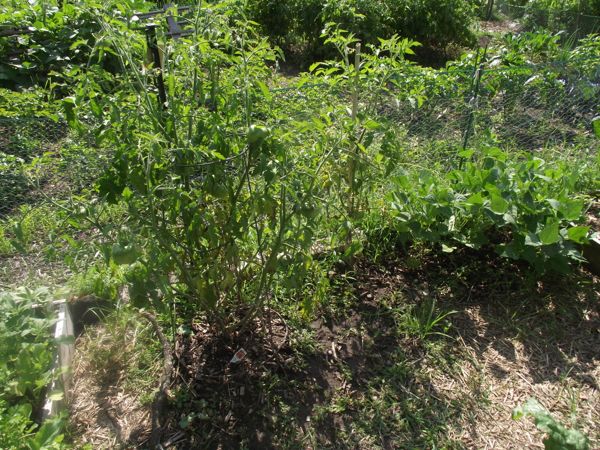 That's them on the right. I didn't know they climb. Now I have to dig around for some sticks to give them something to shimmy up. That's tomorrow's job. Today, I did enough.