I was told that I should wait to plant my garden until the second week of May because we could get one more snow.
I couldn't believe it. WOULDN'T believe it.
So I started in the middle of April. OK, I didn't plant anything per se. BUT I did do some work. As you might remember from my previous post, we had a helluva winter and my little plot was very barren looking. So, one day a few weeks ago, I trudged out there and turned  over all the dirt in my plot.
Here's the before: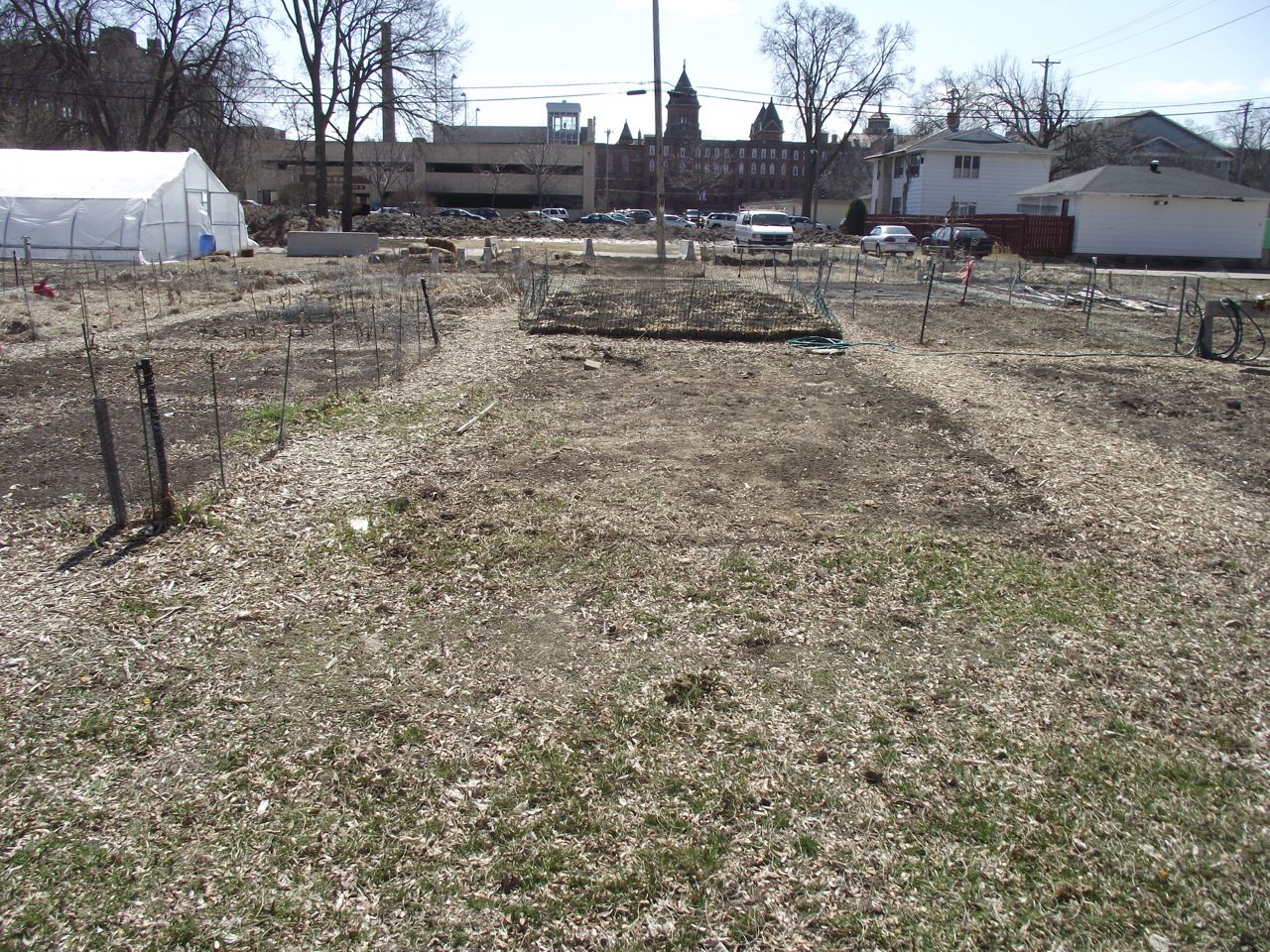 And here's the after: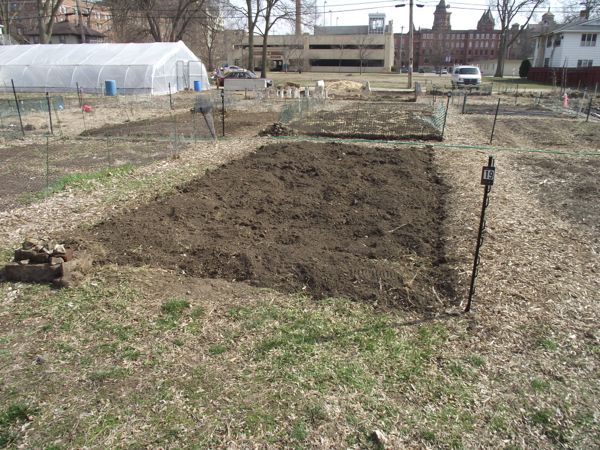 THAT took me about 5 hours and I tell you, I was sore for days. I said it then, and I'll say it again: I have a whole new respect for Sam and Dean. Digging is hard. Oh, and you see that pile of rocks there on the left? That was all in the dirt, including one really huge piece of foundation.
Ok, so next was to get the boxes built. My plan is to do half square foot gardening, and the rest I want to do regular row gardening.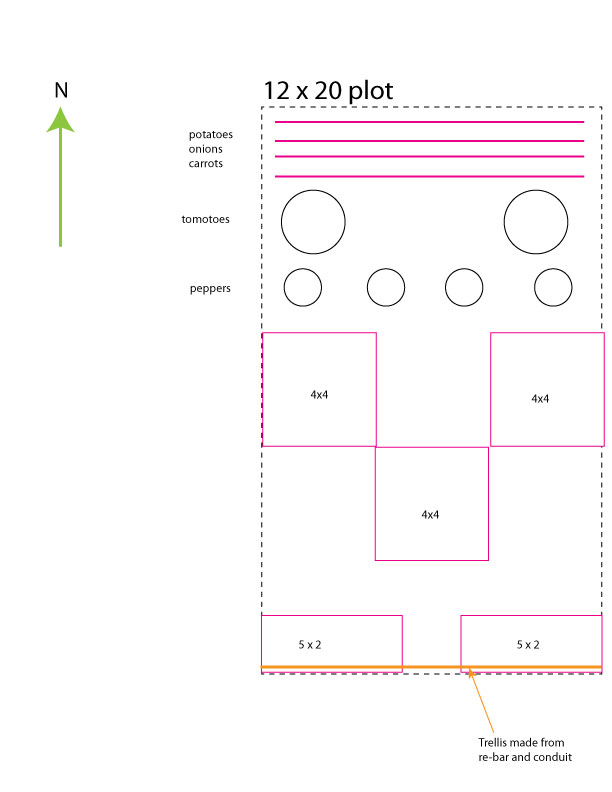 I'm gonna grow tomotoes! (Alright, I'm just too lazy to go back and fix that file, but you get the picture)
So I got the wood, got some help and I started to build.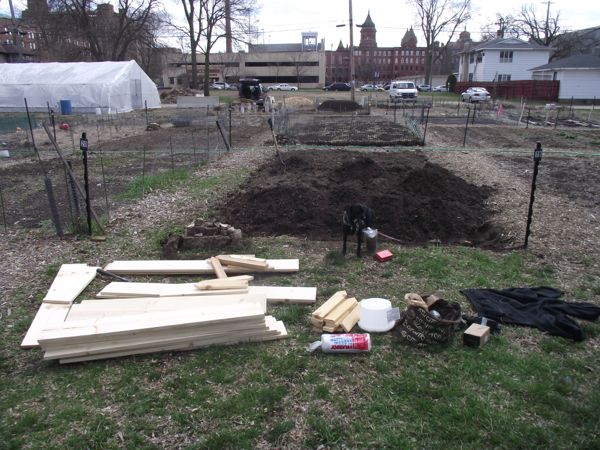 OK, I didn't build them, my dentist, Joe, did. He's a volunteer with the group I work with and he was helping other people build their boxes so he offered to build mine. Thank heavens he did because I would've hated doing it myself.
And can you see Lagniappe? Right there in the middle of everything? She spent the day there with us. I think she likes hanging out in the garden. She digs, eats the grass, & watches over the street. She really indulges herself in the digging. At one point, she had a giant fish-tail of dirt flying out from between her hind legs and I'm not sure, but I think I might've seen her grinning like an idiot. Her real job there however is to pee around the place to scare off the squirrels.
The whole construction took about 5 hours. I wanted to dig down a bit and put the boxes in the ground to make them more sturdy. Also, the dirt I dug out could be put back into the boxes and mixed with peat moss and compost. Clever, huh?
Here they are going in and getting lined: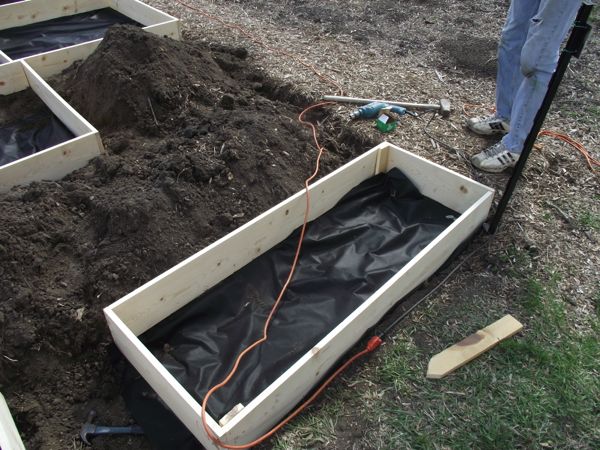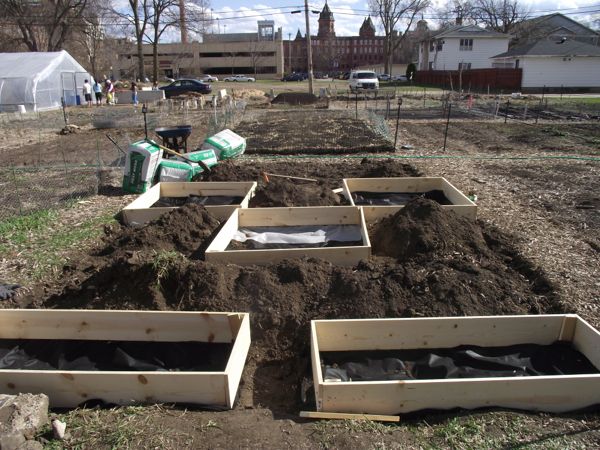 I ran out of the black porous stuff and had to partially line them with plastic with holes punched in it so it would drain. The I filled them up and mixed them up.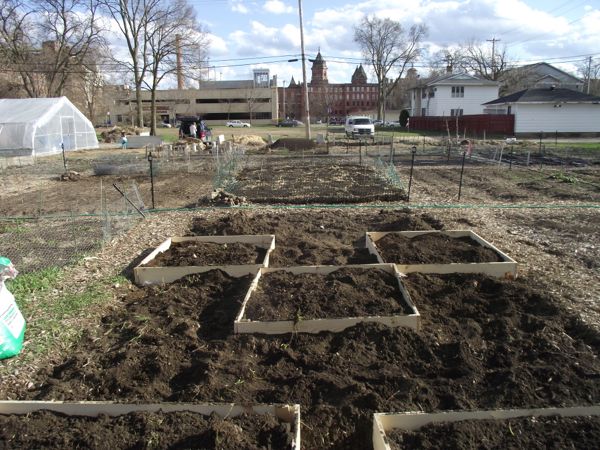 That was actually a little back breaking. The big bags of peat moss were unwieldily and Joe had wheeled over a big blue barrel of compost for me and I had a helluva time maneuvering that thing around. But I did it.
THEN I had to make paths for me to walk on and wrap it all up with some chicken wire to keep out the rabbits: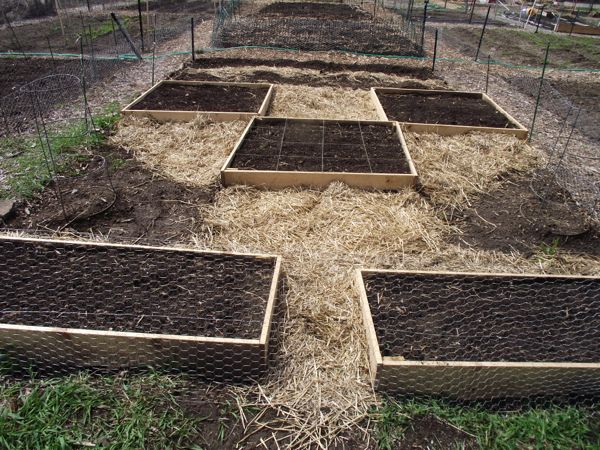 And I improvised the plan a bit. I'm putting the tomatoes on either side near the 5×2 boxes. Well, they're not in the ground yet, but just as soon as my gardening coach says "Go!," in the ground I'll put them.
I did do one box with the grid and I planted a few things.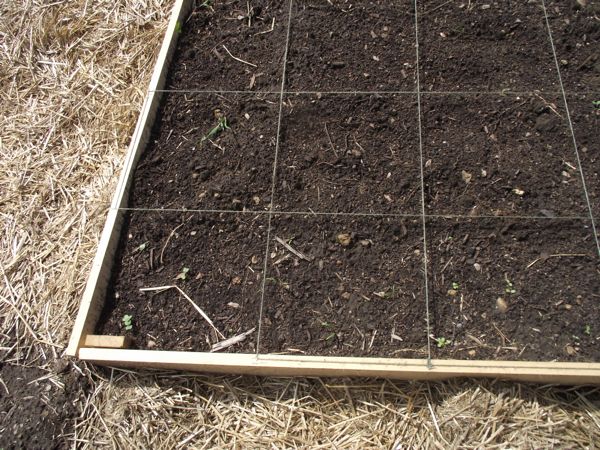 I planted two types of lettuce, spinach, radishes and arugula. And I planted some more like a week and half later. According to the square foot gardening book, you're supposed to stagger your plantings so you're not overwhelmed with produce. I dunno, seems logical to me. And can you see?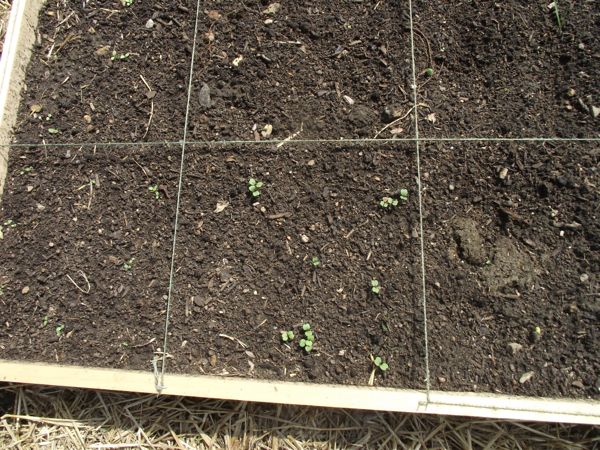 Something is growing that doesn't necessarily look like a weed!
There's so much more to plant. I have some pepper plants, habañero and jalapeño, a few basil plants, a mint plant and oregano plant, both of which are going in separate pots NOT in the soil because, apparently, they're total bastards and will take over a plot and go crazy. I got one lemon grass plant, because, WTF not? I have two tomato plants being tended to by my coach until it's safe to put them outside. I planted some potatoes and onions already. (Though, I think I planted them all too close to each other so that end of the garden will probably be like a packed subway car at rush hour before too long.) Oh, and the middle school next to the garden had a class that was all about starting plants from seeds so they're donating them to the gardeners when school is done. I should get some carrots, cucumbers, eggplants, zucchini and celery.
Next week, I'll plant my pole beans and, I dunno, whatever else kind of seed I purchased on my rampage through the Home Depot. I still have to put up some sort of a trellis. But I can do that later when I actually NEED the trellis.
I've met some interesting folks while gardening and I'll tell you about them as the summer progresses. I've just not gotten comfortable enough to ask them if I can take a photo and quote them yet. I'm still in my "whining about not knowing what the hell I'm doing" phase. It's a very self-centered phase with little room about blogging about anybody but myself and my travails.
And the pain. Oy. My relationship with Prince Ibuprofen has become more meaningful  and at times, even poignant.
Fingers crossed it will all be worth it and the garden will be lush and productive.
Fingers crossed.
And St. Fiacre, you sir, are on my prayer speed dial.