Wow. I haven't posted for two whole weeks. Where has the time gone? Oh, right, I know. I've been on the move. Peter is staying behind in NOLA, teaching at UNO and starting his two major research projects and the stepson got his first, full-time summer job. After a rough year and an even rougher move, I just felt the need to mooch off family… in the North… where the temperatures are more reasonable. (Lagniappe is comfortably enjoying her stay at the Spa, a.k.a. my in-laws' house on the North Shore.)
Read on….
I left NOLA on the 14th and flew into Syracuse to visit my cousin who lives on an army base with her husband and a massive dog named Bevo.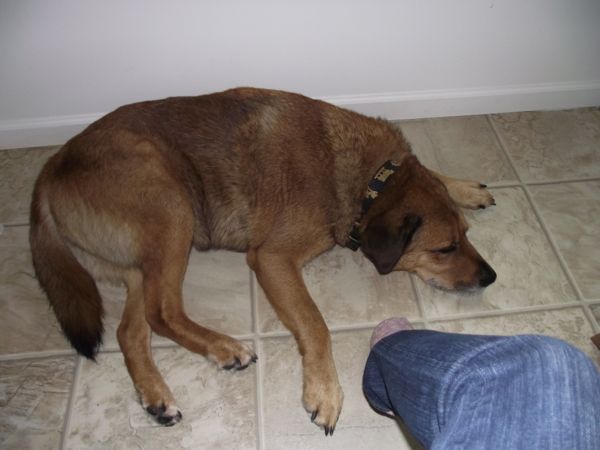 Bevo REALLY. HATES. UPS TRUCKS. You can be zipping down the highway at 70 mph, his head is sticking out the window, ears flapping, tongue lolling, and he'll see a UPS truck on the OTHER side of the highway, also traveling at 70 mph and he'll just lose his marbles over it. It lasts all of three seconds, but his marbles will be all gone. God forbid you're walking him around base and he sees a UPS truck. If you're not paying attention, you're either going to dislocate your shoulder and be dragged across the pavement or you let go and he'll chase the damn truck all the way to Miami if need be. Otherwise, he's a most mellow beast.
It's my first time on an army base and I find it odd. My cousin is perfectly fine with it. She's an army brat and probably living off base would be disconcerting for her. The first time I heard Reveille at friggin' 6AM I was like WTF? And the damn horns play every few hours all day. It starts with reveille and then I guess there's a get your ass out of the shower and out the door thing at around 7 or 8, then the start of the work day, then there's a lunchtime thing and I think and end of lunchtime. Then there's the end of work day one and finally, taps at around 9 or 10. Every. Damn. Day. Even Sunday! Also, it's odd to walk around the place and there are white picket fences and flags and flowers and hospitality lights and it's all very lovely and manicured. Bucolic even. It looks a lot like the "Truman Show" it's so clean and all I could think about is that the men and women who live in these homes are trained to kill people and seeing as the US has been at war since 2001, most of the people who live in these homes HAVE killed people. It's a very strange dichotomy.
The best thing about Watertown though is it's so far north, it gets into the 50s at night. Sweeeeet. Also, my cousin's husband, whom we all all Bunny
is spending the summer training or something at West Point so my cuz is happy to have someone cooking for her.
We also went to a wine tasting thing in Clayton, NY of all places where this really classy lady walked around with her $3 wine glass tucked into the front of her bra.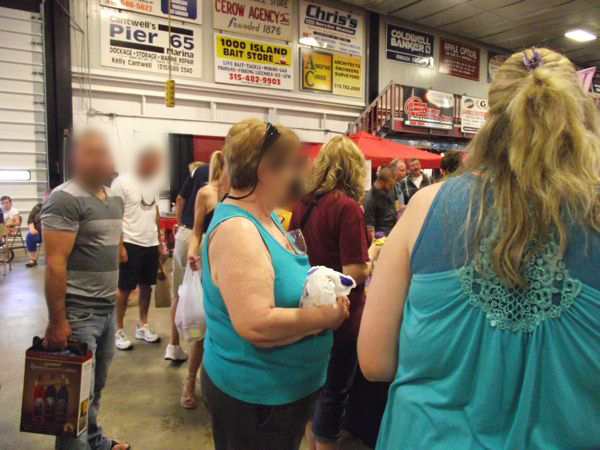 I never know what to do at these things. They always SEEM like a good idea, but once I get there, I resent everybody who gets in my way, and then I resent the folks who are STILL charging $20 for a bottle of wine. I ended up getting some spicy pickled things to nosh on.
I stayed with her for nearly a week and then drove to my sister's in Ithaca on Thursday and on the same day, drove with her and my 16-year old nephew down to South Philly (to drop off a dog she was breeding with her dobie) and then up to my mom's in Brooklyn.
My first trip to Brooklyn since I left in December of 2010. What a rush.
We pulled into Brooklyn at about 10pm and by 10:15, I was sitting at the Brooklyn Inn having a drink. One thing I was struck by was how empty it was on a Thursday night and I suspect it was because the Inn is cash only and the kids these days mostly seem to use cards to pay for things. Too bad. I have to say, Brooklyn, and Manhattan for that matter, looks like "Logan's Run" because it seems there's nobody over the age of 30. Maybe it has always been that way and I didn't notice because I was young too.
The next night, instead of hitting the bars on a Friday night, which frankly seemed a little unseemly at my age, my mom, my sister and a friend of my mom's went up to the roof of my mom's building in Brooklyn Heights and drank way too much wine.
Sadly, with all my worrying about being an unseemly older person in a bar in Manhattan, I did the next best thing and was an unseemly older woman who can't handle her wine. We won't discuss the following events. Suffice it to say, I didn't feel right until Sunday. (I wasn't alone. My sister had a real time of it too and my mom missed being sick by that much.)
We drove back up to Ithaca on Saturday and I've been here ever since. Lovely little progressive town with tons of gorges, an amazing farmer's market with tons of smug liberals and my sister's neighbor's lawn looks like this: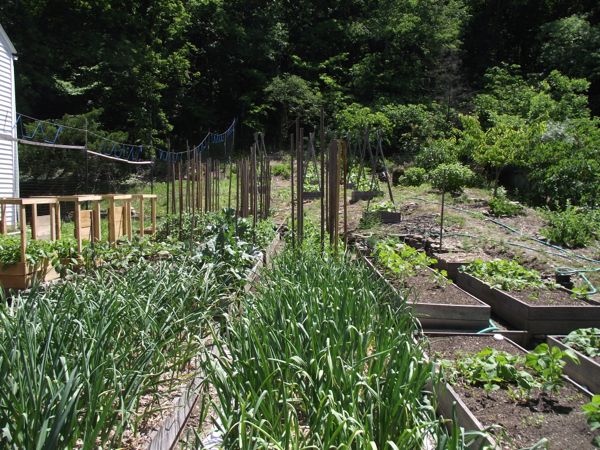 I am going to to pester them for a few lessons on how to set something like this up. It looks awesome…. and delicious.
Time to get some work done. I have a dream of revamping the Huppy the Anarchist website using a jquery parallax effect with a jumping gif of Huppy flying across the screen. I can always dream.
Oh, and before I left NOLA, I saw Kristyn who is the one I did the drawing for when she got diagnosed with breast cancer last year at the ridiculous age of 38. She's looking mighty fabulous these days. THIS is what surviving cancer looks like: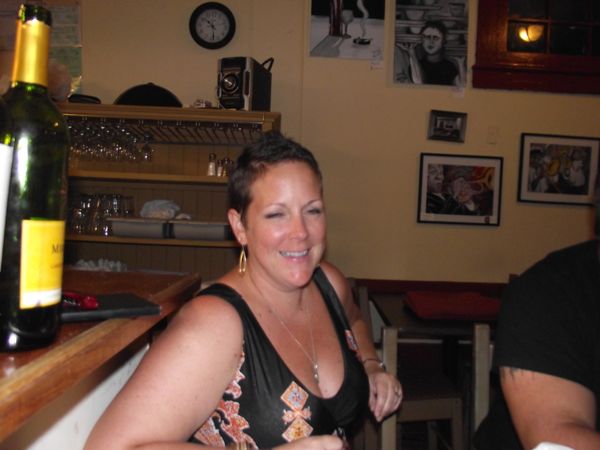 Her theory is that NOLA is the BEST place to have cancer because the food is so good, you'll figure out a way to eat it. Also, the weather is awesome in the winter. She never got that pale, emaciated cancer look AND the place where she got the reconstructive surgery is supposed to be the best in the country. Judging from the results, I have to agree.